Back to the story
Strawberries in juice- fraoules me zoumi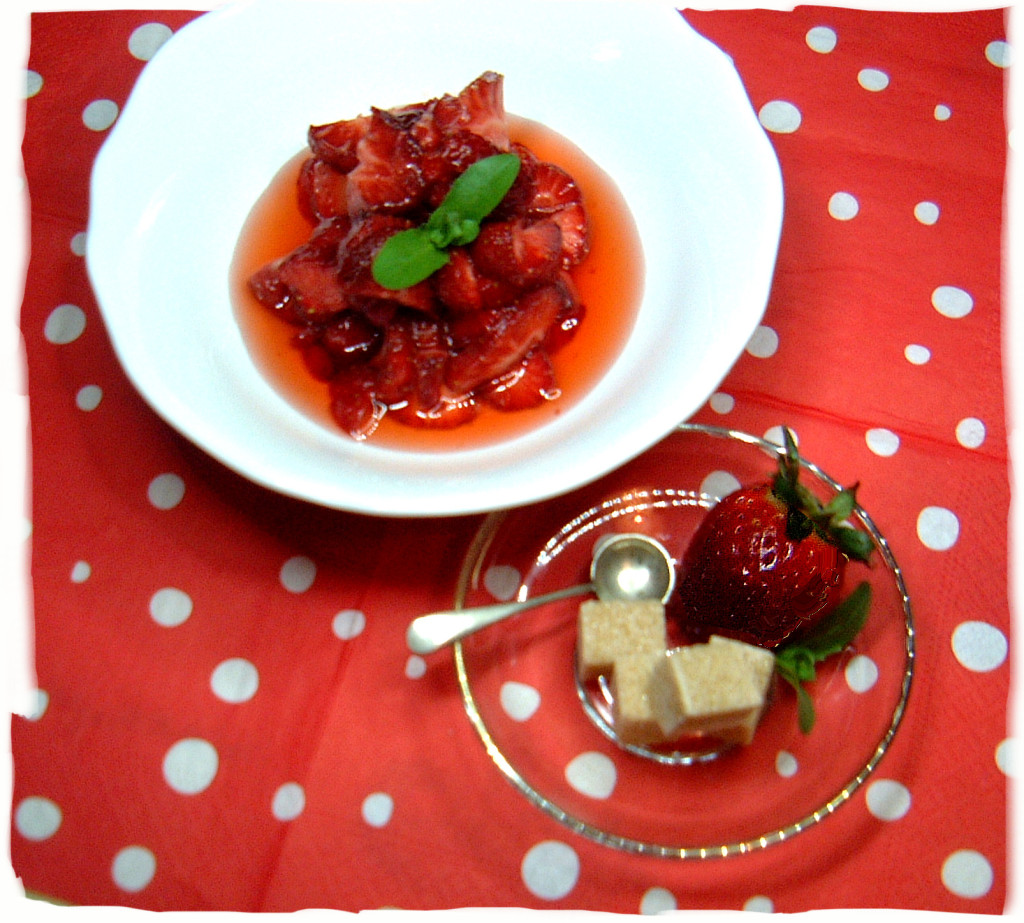 1 kilo of fresh strawberries

1 bowl filled with granulated sugar

1 small cup of cognac

Juice of ½ lemon
This title recalls memories from my childhood. I can still hear someone saying:
-For the trip to Metalliko (green landscape, perfect for excursions in the outskirts of Kilkis, North Greece) I filled the round taper ware container with some strawberries in juice. Careful how you will open the lid!…
-Mummy, mummy, one bowl with strawberries in juice for me, please!…
-Are these strawberries with juice? Delicious!…
-Are there any strawberries with juice left? I will finish them, don't serve me anything else!….
But why are they so famous? It is strange but this funny and not at all attractive title 'fraoules me zoumi', in the Greek language, refers to a sweet fruit dessert that we all recognize ever since we were kids. And let me tell you, we never say "no, thanks" when it's served to us!
Procedure
Wash the strawberries.  When they are in season it is better to make this fruit dessert! Nowadays I find that the organic strawberries have a fantastic flavour. I also prefer the ones that they come from Manolada, Greece, they are very tasty around April and May. We pick up the firm, round, medium in size. I can say with certainty that the English strawberries, though very tiny they are incredible delicious! This is something that I really miss from England, not to mention the ripe, juicy mangos they are sold there!
Clean the small leaves, cut them in slices and place a first layer of strawberries on the bottom of your glass container bowl.
Spread 2-3 tablespoons of sugar to cover the fruits and on the top, 1 tablespoon of cognac and 2 drops of the lemon juice.
Continue with the same layers until you finish the strawberries
Close the lid and place them in the fridge. You will eat them at their best on the next day. However they are o.k. to eat after 5 hours.
Serve them in small bowls with some of the juice that in the meantime has been formed.
Ideas: Serve them in cocktail glasses, last minute garnished with crème chantilly and some flaked almonds on top.  Excess calories but a very comforting idea for those of us with a sweet tooth!
(Visited 152 time, 1 visit today)