Back to the story
Steamed salmon in lettuce salad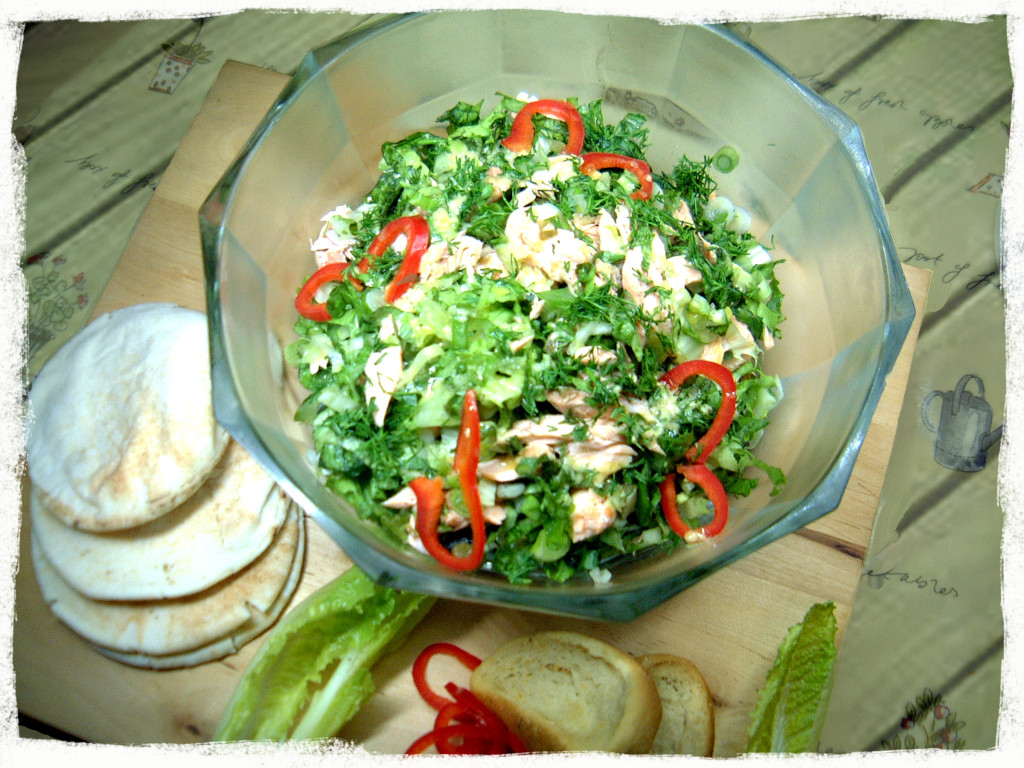 Serves 3-4 persons
1 large fillet of fresh salmon

Zest of 1 lemon (it will be added to the steam water)

1 medium lettuce

2-3 spring onions finely chopped

½ small cup of lemon juice

1 cup of extra virgin olive oil

1 tablespoon of Dijon mustard

1 tablespoon of capers

1 tablespoon of finely cut dill

Salt, white pepper
Procedure
Wash the salmon, place it on a sieve like the ones we buy to prevent splashes from hot oil in frying. As I stopped cooking all those delicious fried vegetables that I remember from my childhood, like the fried eggplants, the spicy green peppers, thinly cut slices of courgette or potato fries, I only use my new, clean sieve for steaming salmon. Unless we have a steamer which makes our life easier! Well, place the sieve on top of a deep frying pan which you filled almost to two thirds with water, some lemon juice and the lemon peel. The water should not touch the fish.
Bring to the boil, cover with a lid so the fish is completely under it, not touching the edge of the lid and simmer for 15 minutes. Then turn it carefully and continue simmering, overall for 30 minutes. If the water finishes put more so it will always be with the same amount filled with water.
The salmon will get a nice pink colour. Test it with the fork and do not care if it is cut to pieces as it will be flakes for the salad. Remove from fire and let it cool away from the hot water.
In a deep serving bowl place the washed and well drained lettuce, finely shred, the washed and finely cut spring onions, dill and capers.
We put the salmon in flakes spread evenly, salt and white pepper.
In a small jar with lid that we keep for these purposes, add mustard, olive oil, lemon and shake vigorously to mix. Pour it to the salad. Mix gently with a wooden spoon.
Serve with the olive oil wheat rusks, round small pies – the pittas of Arab style and chilled dry white wine. Have a good appetite!
I once found the recipe in a food magazine, called Gastronomos.  It is perfect for my taste although some I know in my family would be reluctant to try the steamed salmon! However, if you think that steamed food is proven to be very healthy and mainly when you try the salad, along with the other appetizers, you will be very satisfied. Secret for success: all ingredients must be very fresh!   Ideas: Whenever you use capers from a jar, put them for a while in water and then strain them. They blend better with the salad!  
(Visited 130 time, 1 visit today)